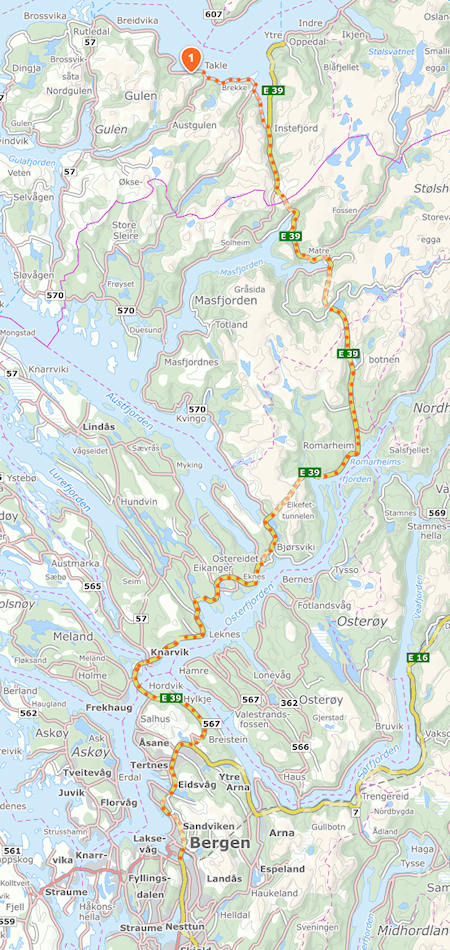 Botnen Camping is situated at the seaside, in the outer parts of Sognefjord, between Oppedal and Rutledal. From Bergen it is about 1.5 hours drive north along E 39, exit at Instefjord – see the map.
The site offers excellent opportunities for fishing. There are also many beautiful hiking trails in the area. You can find more information about this under the menu item «Attractions and activities».
We have eight cabins for rent. Five cabins of 24 m2 with accomodation for 4 persons. 3 single cabins of 12m2 which can house 2 +. In addition, we have a booth with 5 rooms with beds for 2.
We have 30 seats for permanently placed caravans. The campsite has good facilities for tourists who come with their motorhomes and caravans. The site is also welcoming travellers with tents. Everyone has access to power outlets.
In 2014, new sanitary facilities were built, in addition to new reception, a simple shop and cafeteria with food service. There is also access to shared kitchen, vacuum cleaner, dryer etc. The campsite has 6 boats for rent.
Opening hours:
April – May:
10.00 – 12.00 and 18.00 – 20.00
June, July and August:
09.00 – 22.00
September:
10.00 – 12.00 and 18.00 – 20.00
The campsite is closed in winter.